New York Governor Gauging Support for Full Ban on All Cigarette Sales
Kathy Hochul isn't just waging a war on menthols. She's also floating a ban on all cigarette sales in the state.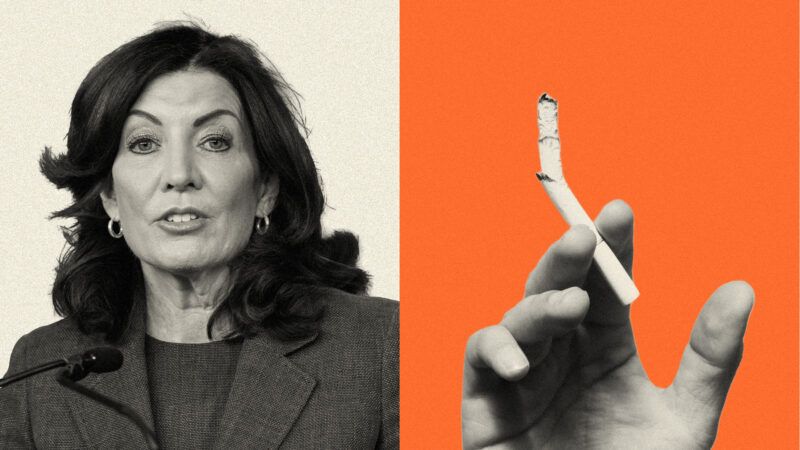 (Illustration: Lex Villena; Ming Kai Chiang, Lev Radin/ZUMAPRESS/Newscom)
An explosive new report by the New York Post revealed on Saturday that New York Gov. Kathy Hochul, a Democrat, appears to be considering a full ban on the sale of tobacco products.
The director of the state Health Department's Bureau of Tobacco Control recently distributed a poll to local legislators and community leaders filled with questions meant to gauge support for prohibition. "What is your opinion about a policy that would end the sale of all tobacco products in New York within 10 years?" asked one question. "What is your opinion about a policy that would ban the sale of all tobacco products to those born after a certain date? For example, those born after the year 2010 or later would never be sold tobacco," asked another.
"I've never seen anything like this where [the state] uses this kind of focus grouping, alliance building, momentum building," an Albany insider told the New York Post, indicating that Hochul's administration was considering a full ban, something a Health Department spokesman denied.
But it's not crazy to imagine Hochul pursuing all-out prohibition, for which this poll sure looks like a trial balloon. Hochul is currently in state budget negotiations, where she and fellow Democrats have been working out a ban on menthol sales as well as a $1-per-pack tax increase on all cigarettes sold in the state. (The average price of a pack of cigarettes in New York state is $11.96. In the city, that number is higher; I was charged $18 for a pack of cigarettes last week in Manhattan.)
A menthol ban, Hochul said last month, is supposed to prevent New Yorkers from going down "the path of a lifetime of smoking addiction." Such bans are in vogue right now: The Biden administration has been toying with a national crackdown, directing the Food and Drug Administration last year to draft regulations, which came on the heels of a 2020 ban on the sale of some flavored vaping cartridges.
"Caught in the middle are Black smokers, who smoke menthol cigarettes at higher rates than white smokers, and are the main group the ban is meant to help," wrote The New York Times' Luis Ferré-Sadurni yesterday. "Decades of aggressive marketing by tobacco companies have caused Black smokers to consume menthol cigarettes, whose cooling sensation on the throat makes them more appealing and addictive."
Setting aside the fact that sentences like those above deny black smokers any semblance of free will, Hochul and her Department of Health should think twice before adding new categories to the list of banned products. Though making cigarettes harder to access would possibly have the effect of reducing smoking uptake, those who do continue to smoke would most likely end up paying more for black-market products (while also running the risk that such products, like vaping cartridges, be tainted with adulterants).
It was, after all, New York state's prohibition on selling loosies—single cigarettes without tax stamps—that led to Eric Garner, a black man, being placed in a deadly chokehold by New York City Police Department officer Daniel Pantaleo in 2014. Had New York never regulated the selling of loosies (or raised cigarette taxes so high during the Bloomberg administration, which loosie vendors say led to a noticeable increase in demand for their products), Garner might not have been hassled—and ultimately, brutally killed—by a cop.
Prohibitions, after all, are enforced at gunpoint. And even prohibitions that don't result in police chokeholds can have all kinds of unintended consequences—like the bans on certain vaping products, which are successfully used as smoking cessation tools by tons of smokers who are looking to quit. (Much of the research linking vaping to lung diseases has been shoddily constructed, with causal links too hastily drawn, as Reason's Jacob Sullum has documented over and over again.)
What seems well-meaning to Times writers and Hochul staffers seems to libertarians like a disturbing opportunity for the state to wield power in new ways against the least well-off.